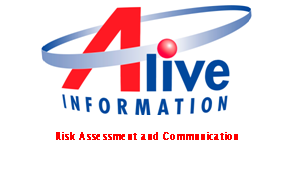 Alive Information
uses risk assessments to save lives, budget, guarannteed operations and the environment.

We also communicate these findings.
The Likelihood of a young driver to smash a car is higher than a seasoned driver, but the consequences of such an event can change significantly depending on the replacement value of the vehicle.
The Likelihood multiplied by the value of the Consequence determines the risk.
R

Studies

Project Execution

Handover & Operations - Life

Concept

Pre-Feasibility

Feasibility

Validation & Kick Off

Detail Design & Procurement

Construction & Pre-commissioning

Commissioning & Performance Trials

Handover & Closeout

Maintenance & Operation